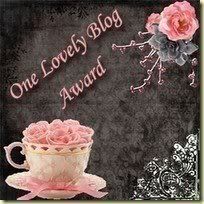 I have just received my first award for my new blog - How awesome is that?
It was given to me by Jax ~ go visit her wonderful
blog
!
Here are another rules for this award:
1. Put the award on your blog
2. Include a link to the person who gave you the award
3. Nominate 7 or more blogs (always hard to do)
4. Leave a message on their blog letting them know they have an award on your blog
I am happy to pass this award to:-
Jen Hanson
Kimberly
Claudia
Cornelia
Debbie (iwannalife2)
Sharon
Kimberley
Robbi
Amy
1 Comment:
Robbi and Mike said...

July 31, 2009 at 6:04 AM

 

Thank you for the sweet award, and sorry to be so late in replying - not home much~~! I will forward on the honors - Awesome Blog Rose!